Aside from bunnies, chicks are a classic symbol of Easter. This Easter Chick Cake Pops recipe from Mazola.ca may take a bit of patience, but the result are amazing!
Not only are they adorable and perfect for any Easter gathering, but they're also delicious and perfectly moist.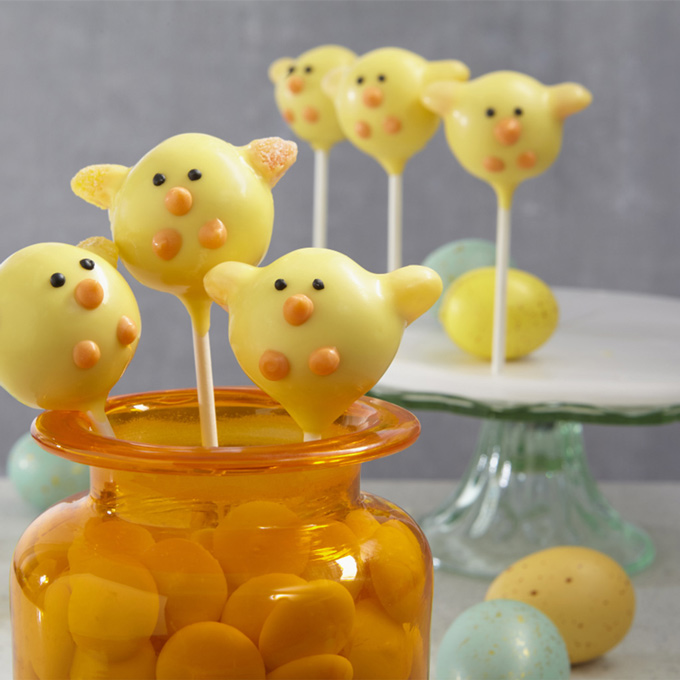 Easter Chick Cake Pops
Ingredients:
Cake:
1 cup all-purpose flour
2/3 cup brown sugar
1-1/2 teaspoons Fleischmann's Baking Powder
½ teaspoon salt
1/3 cup Mazola Vegetable Oil
½ cup milk
1 egg
Vanilla Buttercream Frosting:
1/2 cup butter OR margarine, softened
2 tablespoons Crown Lily White Corn Syrup
1 teaspoon vanilla extract
A dash of salt
2-½ cups powdered sugar
2 to 3 teaspoons milk
For Decorating:
2-3 cups yellow coloured white chocolate molding/candy wafers
1 dash Mazola Canola, Corn OR Vegetable Oil
½ cup orange coloured white chocolate molding/candy wafers for beak and feet
12 gummy candies cut in half for wings, we used fuzzy peaches
Black food colouring or dark chocolate for eyes
Equipment:
Lollipop sticks
8" round cake pan
Styrofoam block
Fine tipped paint brush dedicated for food use only
Instructions:
Pesto:
Preheat oven to 350F. Grease an 8" round cake pan, line the bottom with parchment
paper.
Place flour, sugar, baking powder, salt, and oil into a freestanding mixer with
a paddle attachment or in a bowl and mix with an electric mixer until you get a
sandy consistency. Add in the milk and egg, and beat until smooth and well-mixed.
Pour mixture into prepared pan and bake for 20-25 minutes, or until cake bounces back when touched or the toothpick in center comes out clean. Cool for 5 minutes, remove from pan, break into large chunks, and let cool.
To make the buttercream, beat butter, corn syrup, vanilla, and salt in a large mixing
bowl until light and fluffy. Gradually beat in powdered sugar and 2 teaspoons of
milk. Add additional milk, 1 teaspoon at a time as needed, to reach desired
consistency.
Crumble cake into a large bowl until it resembles fine breadcrumbs, you can use
the mixer for this step, then mix in some of the frostings, just until the mixture
can be formed into small balls without cracking, don't make it too moist or the
balls will not hold their shape. Make 1.5" size balls by rolling them between your hands,
place cake balls on a tray.
Follow the directions for your molding/candy wafers and melt them in a double boiler
or in a microwave-safe bowl. Melt ¼ cup of the yellow chocolate wafers.
Dip the tip of a lollipop stick into the chocolate and place in the cake ball halfway
in, set on the tray. Once you have sticks in every ball, place the tray in the freezer for 15
minutes or fridge for 30 minutes to set and firm up the cake balls.
Once the pops have chilled, melt the remaining yellow chocolate wafers in a large bowl or
double boiler. You can add a dash of oil to loosen up the consistency if needed,
and dip each pop in chocolate coating to entirely cover the ball, making contact with
the stick.
Gently twist and roll the cake pop and tap off the extra coating, once it has stopped
dripping use a cake pop stand or Styrofoam block to stick pops in to dry
completely and leave to set. Continue with the remaining pops until all are covered in
yellow chocolate coating.
Prepare for decorating your pops by cutting gummy candies in half, using some of
your yellow chocolate, brushing a small amount onto cut edge, and stick onto the
cake pop for the Chick "wings". Add enough chocolate to seal around the edge of
the wing so it is secured. You can leave like this, or once set, re-dip your pops a
second time to hide the gummy candy in the coating completely.
Melt the orange chocolate molding wafers. Using a skewer or paintbrush, create
the feet and beak by dabbing a bit of chocolate on your cake pop.
Use black food colouring paint dots for eyes or melt a small amount of dark
chocolate to create eyes.