August 1 is National Spritz Day and what better way to celebrate than with the iconic Italian cocktail -the Aperol Spritz.
The Aperol Spritz continues to be one of the most popular cocktails enjoyed by Canadians all summer long. It currently sits at number 9 on the Drinks International (DI) best-selling cocktail list and is simple to recreate at home with the perfect serve: three parts prosecco, two parts Aperol, and one part soda water.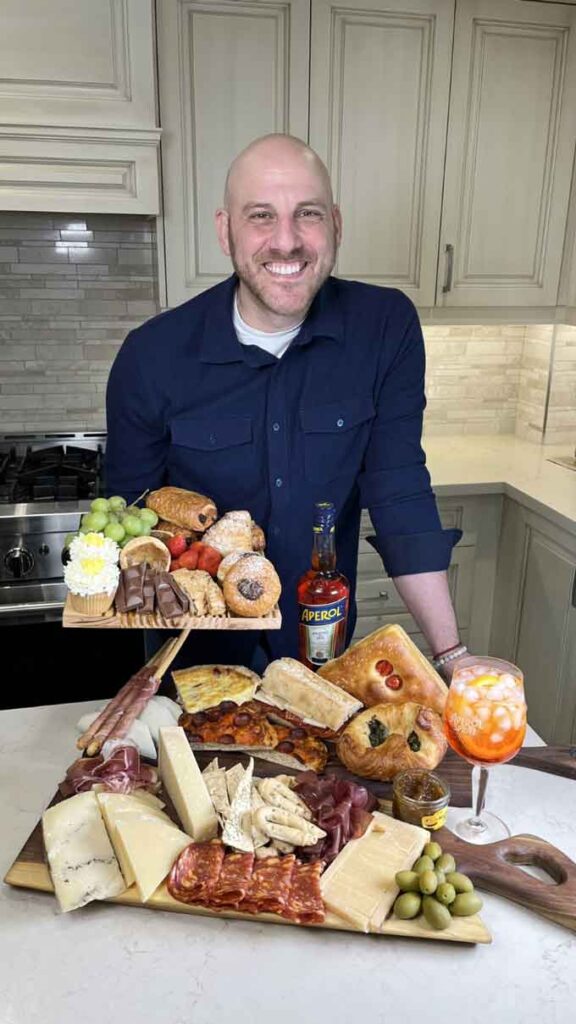 To help Canadians celebrate on Spritz Day, and into the long weekend, Aperol has partnered with Afrim Pristine – owner and cheese master at Cheese Boutique, bestselling cookbook author, and Food Network Canada host of CHEESE: A LOVE STORY – to teach Canadians how they can make their very own aperitivo brunch board, a custom spread of brunch finger foods that pair perfectly with an Aperol Spritz.
Aperol Spritz Recipe (3-2-1):
In a stemmed wine glass filled with ice, pour 3 parts (oz) Prosecco, followed by 2 parts (oz) Aperol and a splash of soda water. Gently stir to combine, garnish with an orange slice and serve.
Afrim Pristine: How to build an aperitivo brunch board this entertaining season:
A beautifully crafted aperitivo board is all you'll need to bring friends and family together at brunch this spring and summer season. Renowned cheese master and Food Network Canada host Afrim Pristine shows us how to make one.
Assemble based on the season. When building your board, opt for different textures and ingredients that are seasonally available. When the season changes, so should what you select for your brunch board. As guests are consuming the board, it should feel as if they are travelling on a delicious journey through a variety of seasonal flavour profiles.
Know your guests. Are you hosting meat lovers or sweet tooths? Factor their palates into your decision when assembling your board. You could create a board focused on classic Italian charcuterie with cured meats, cheeses and olives or opt for something sweeter with pastries, fruit, and freshly baked goods.
Focus on quality over quantity. Less is more. You don't need 15 different ingredients on a brunch board to make a statement. Focus on fewer, higher-quality items and your guests will still be impressed.
Don't forget your drink pairing. Enjoy a beautiful, refreshing drink like an aperitif with your brunch board. My go-to is an Aperol Spritz because it's simple to make, and pairs well with so many flavours. It will also look great sitting on a table next to any type of brunch board with its iconic bright orange hue, ice cubes and orange slice.
Make it visual. They live in a social media world where aesthetics matter. When hosting your next brunch get-together, the board can also serve as Instagram-worthy décor. Simply placing beautiful ingredients on brunch boards can be visually impactful and allows the food to be the star of the show.