J.P. Wiser's 10-Year-Old, the latest addition to Corby Spirit and Wine's Canadian whisky portfolio, has been awarded the Category Winner and Gold for 12 Years & Under at the 2023 World Whiskies Awards.
Following the success of its European launch, J.P Wiser's 10-Year-Old was released in North America last October and has quickly risen to be a top 5 innovation in the Canadian whisky category.
For 23 years, the World Whiskies Awards has been the world's largest and most respected whisky competition.
This global award selects the very best in all the internationally recognized styles, rewards and promotes the world's best whiskies to consumers and trade across the globe.
In addition to J.P. Wiser's 10-Year-Old receiving two awards under the Canadian Whisky category, the full list of winners from Corby's portfolio includes:
J.P. Wiser's Deluxe: Silver in the No Age Statement category for Canadian Whisky
Lot No. 40 Dark Oak: Category Winner and Gold in the 12 Years & Under the category for Canadian Rye
Lot No. 40 100% Rye: Silver in the 12 Years & Under the category for Canadian Rye
For a full list of 2023 winners, please visit www.worldwhiskiesawards.com.
J.P. Wiser's 10-Year-Old
The perfect drink when you want to unwind or treat yourself to a classic and traditional Canadian whisky.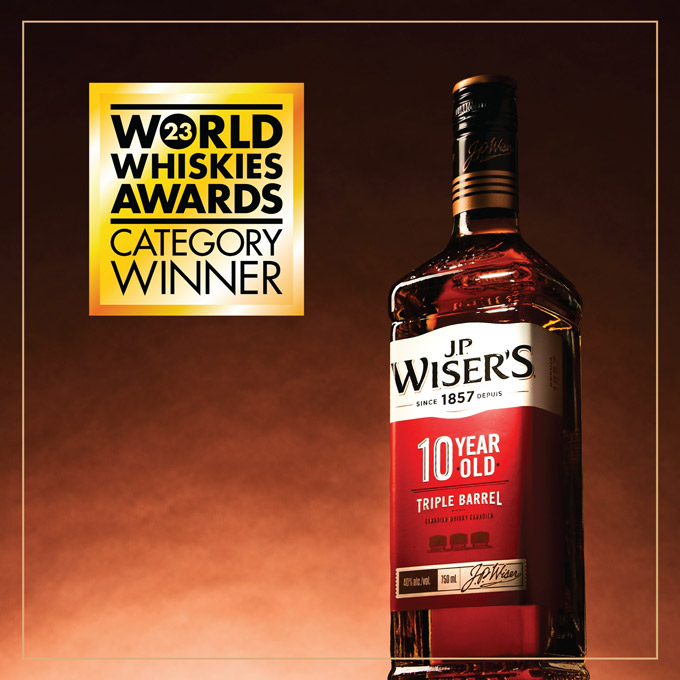 J.P. Wiser's 10YO is an impressive gift for a whisky enthusiast or an enchanting addition to your home Bar cart.
Aged 10 years and Triple barrel distilled, this whisky has aromas of caramel, honeycomb toffee, vanilla, dried fruits, and rye spices with subtle tasting notes of green apple and pear drops.
J.P. Wiser's Deluxe
Our signature whisky, J.P. Wiser's Deluxe is an award-winning, full-flavoured Canadian rye whisky.
The sweetness of caramel, toffee, and vanilla are balanced with toasted grains and oak to create a complex aroma and body.
The perfect introduction to the J.P. Wiser's line, it's a great gift for the whisky novice – and is also right at home on your bar cart as a standing favourite, ready to be mixed into your next whisky cocktail.
Lot No. 40 Dark Oak
Lot 40 Dark Oak is a bigger, bolder version of Lot 40 rye whisky. Maintaining the core essence of Lot 40 – 100% rye, distilled in a pot still, aged in new American Oak barrels – Dark Oak is finished in a second new oak barrel, this time heavily charred.
This finishing in a new, char no. 4 barrel adds even more notes and colour from the barrel, resulting in a bolder and more intense rye whisky which is then bottled at an ABV of 48%
Lot No. 40 100% Pot Still Rye
Lot No. 40 is crafted in small batches using 100% rye grain in a single copper pot still.
This concentrates the spicy rye notes while retaining the fruity and floral notes from fermentation.
The whisky is then aged in virgin white oak barrels to bring forth notes of vanilla, caramel, and toffee, resulting in a complex and bold whisky
J.P. Wiser's and Lot No. 40 can be purchased at liquor establishments, please check your local retailer for pricing and availability, or online for Ontario residents at jpwiserstour.ca.