To get into the festive spirit, Toronto's favourite pizza institution, Pizzeria Libretto will be hosting a '12 Days of Pizza' offering, with new and exciting features nightly – that's right, one night only!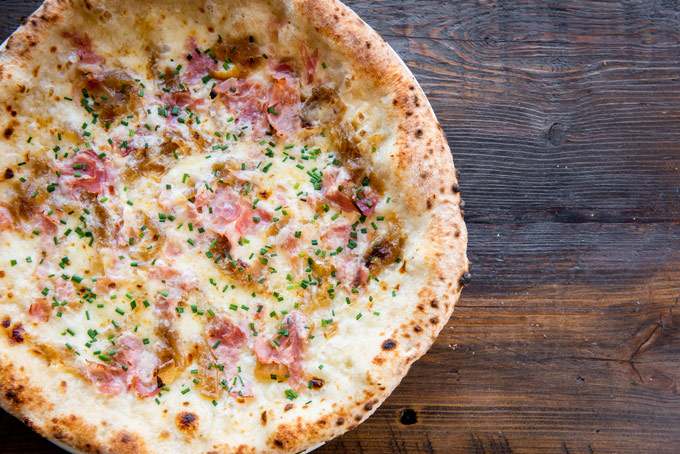 From December 26 until January 6, Pizzeria Libretto will offer different daily specials created by Chef Rocco Agostino, available at all locations except University Ave. Choose from unique creations such as:
The French-inspired Croque Madame, made with fried cheese and ham (oui, oui!)
Shrimp Diavola – an elevated version of a traditional spicy shrimp pie
The show stopping New Year's Eve Potato Chip Pizza, made with gorgonzola cream, truffle paste, fior di latte, gruyere cheese, finished with chives and topped with crunchy potato chips!
12 days of Pizza – December 26th – January 6th
Croque Madame – panna, mozzarella, caramelized onion, gruyere cheese, finished with chives and flake salt – Monday December 26th – $22
Shrimp Diavola – san Marzano, garlic, oregano, basil, fior di latte, shrimp, pickled onions, chillies – Tuesday December 27th – $22
Prosciutto and Pear – gorgonzola cream, asiago, pear, mozzarella, finished with prosciutto, pecorino, lemon and maple cayenne. – Wednesday December 28th – $22
Roasted Mushroom Pizza – panna, truffle, roasted mushroom, mozzarella, finished with chopped parsley, chive crème fraiche and grated grana Padano – Thursday December 29th 2022 – $22
Smoked Salmon- smoked salmon, cream cheese panna, goat cheese, fior di latte, capers, chives, dill, pickled red onion, white balsamic reduction – Friday December 30th – $22
Potato Chip – gorgonzola cream, truffle paste, fior di latte, gruyere cheese, finished with potato chips and chives (NYE Feature) – Saturday December 31st – $22
Meatball – san Marzano, basil, garlic, fior di latte, mozzarella, meatballs, cheddar, jalapeno, pickled red onion – Sunday January 1st – $22
BLT – panna, mozzarella, asiago, bacon lardons, finished with iceberg lettuce, preserved tomato and green goddess aioli – Monday January 2nd – $22
BBQ chicken pizza – roasted red pepper sauce, fior di latte, scarmoza, pickled onion, bacon, libretto sugo bbq sauce, chives – Tuesday January 3rd – $22
Beet pizza – beet pesto, basil, Spanish onion, fior di latte, parmigiano, olive oil, baby arugula, goat cheese, white balsamic reduction – Wednesday January 4th – $21
Italian Meats (Bomba) – salami, bacon, house made sausage, basil, oregano, parmigiano, fior di latte, scarmoza, chilli, rosemary – Thursday January 5th – $22
Beef salami and tomato jam – aged and fresh mozzarella, garlic, dried oregano, basil, smoked beef salami, tomato jam, pickled jalapeno – Friday January 6th – $22