Looking for the perfect Mother's Day gift?
Give your mom the gift of an elevated tea experience with Camellia Sinensis teaware.
Camellia's teaware collection is thoughtfully designed to enhance the beauty and flavour of your favourite tea blends.
From elegant teapots to delicate teacups, each piece is crafted with care and attention to detail, creating a special experience every time your mom brews a cup of tea.
Camellia Sinensis Teapot | Perfection – Scarlet Red
The emblematic Camellia Sinensis porcelain teapot has everything you need for an ideal teapot.
Developed in partnership with a ceramic workshop in Taiwan, the teapot has been redesigned and improved from one version to the next.
The spacious filter easily retains even the finest leaves thanks to its micro-perforated surface.
Camellia Sinensis Duo Cup – Antique Blue
This cup was designed by the Camellia Sinensis team in partnership with a ceramic workshop in Taiwan.
Made of porcelain, the pure white glazed interior finish is perfect to enhance the colour of the tea of your choice.
An elegant everyday accessory with pleasing curves and practical size.
These cups are sold as a twosome in a box. The price is for both cups.
Glass Tea Flask
Designed for people who wish to enjoy tea anywhere, the glass bottle is practical, and minimalist and will quickly become essential.
In addition to its versatility, the transparent double-walled glass is a valuable asset that enriches the experience with visual pleasure.
Glass Iced Tea Pitcher
The glass infuser pitcher is ideal for both iced tea and tisanes.
Glass is resistant to both cold and boiling water infusions. It also is a neutral material, easy to clean, which allows you to vary the families of teas, tisanes, and other infusions without fear of mixing the flavours.
Matcha Set
Happiness in a box! The Camellia Sinensis Matcha Gift Set includes the four essentials for a perfect emulsion.
Chasen (Matcha Tea Whisk)
Naoshi (Chasen Holder)
Chawan | Jade
Matcha Spoon | Stainless Steel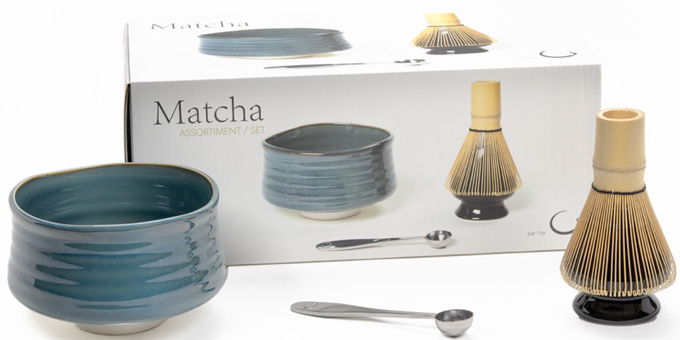 Whether your mom is a seasoned tea enthusiast or a newcomer to the world of tea, Camellia's teaware collection offers something for everyone.
So why not give your mom a gift that she can enjoy every day?
Shop Camellia Sinensis teaware this Mother's Day and make your mom feel truly special.
Camellia Sinensis' teas are available in-store and online at https://camellia-sinensis.com/en