Wouldn't National Iced Tea Day on Saturday, June 10th, be the perfect time to indulge in a Sizzling Summer Par-TEA? Whether it is a picnic, backyard barbecue or a high-tea party, Camellia Sinensis teaware can be a glamourous touch to your event.
For Camellia Sinensis, the aesthetics of the accessories are just as important as their functionality.
That is why from the teapots to the flasks are crafted with exceptional quality and beauty.
Camellia Sinensis Celadon Picher | Sage
Camellia Sinensis authentic celadon pitcher is skillfully crafted by renowned artisan Mr. Jin Yi Rui in Longquan, China.
Glossy and smooth, the works cast by the artisan are intended to be a perfect ceramic for everyday use.
Exclusive to Camellia Sinensis Double Wall Glass Cup | Aura
A double-walled insulation ensures that your tea stays at the perfect temperature, whether it is hot or cold, without depriving you of the pleasure of admiring the colour of the infusion.
Tea Tray For Beaker & Cup
A simple, yet very elegant tea tray, would be a good addition to your tasting set helping secure everything when moving.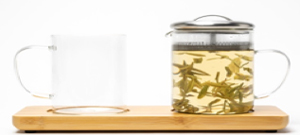 Superbly versatile, bamboo blends in easily with all your other tea ware.
The glossy finish makes this tray neat and easy to clean.
Gaiwan | Blue Sky
Gaiwan cup comes with a lid and saucer and is used especially for infusing large leaf teas.
The leaves are infused directly and the lid holds them back when the tea is ready to pour.
This allows the leaves to be saved for multiple infusions, thus concentrating the flavours and aromas for each cup.
The guests will be astounded with your tea-making skills.
Hagi Cup From Mr. Nakahara | Natsu
The City of Hagi is famous for its ceramic tea ware since the seventeenth century with the arrival of potters from Korea. Fine cracks will gradually reveal themselves once they have absorbed some tannins.
Let us consider these unique potteries as living objects. It also comes with a wooden box signed by the artist. So, look after it!
Camellia Sinensis accessories are available in-store and online at https://camellia-sinensis.com/en