SkipTheDishes and its rapid grocery and convenience delivery service, Skip Express Lane, announced the launch of Canada's first-ever Inflation Cookbook, an interactive digital resource designed to help Canadians source affordable, nutritious food and maximize their grocery budgets.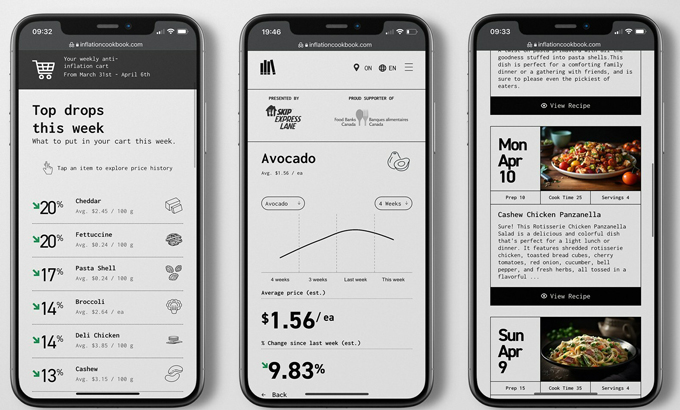 The Cookbook is reflective of SkipTheDishes' ongoing commitment to fighting food insecurity in the communities it serves and Skip Express Lane's ongoing mission to conveniently deliver fresh top grocery items and healthy produce to Canadians in 25 minutes or less.
The Inflation Cookbook leverages the power of data and technology to track the top ten food items that are trending downwards and upwards in price each week.
Insights are regionally dictated and brand agnostic, providing Canadians across all provinces with an opportunity to find better-priced groceries.
Using AI and the guidance of both a top nutritionist and chef, the Cookbook also curates seven healthy recipes that consumers can create at home using the best-priced items from that week, making healthy, cost-effective meal planning an accessible and convenient option.
Alongside the launch of the Inflation Cookbook, Skip will also be evolving its long-standing partnership with Food Banks Canada to bring additional support to those facing challenges amidst rising prices and will be donating all surplus food from its 23 Skip Express Lane fulfillment centres to local food banks across the country.
To kick off this expanded partnership, SkipTheDishes will also be donating $100,000 to Food Banks Canada to help advance the organization's shared mission of ensuring all Canadians have access to nutritious food.
This donation will provide 200,000 meals to Canadians in need, in addition to the monthly food donations local food banks will receive from Skip Express Lane locations year-round.
The Inflation Cookbook, which is accessible through a mobile-friendly web browser, aims to provide Canadians with options that are equal parts healthy and affordable, with many of the 400 items tracked are produce, whole grains, and dairy items, as well as select proteins.
Inflation Cookbook users can curate and customize their experience based on their household size and grocery budget and are offered ingredient substitutions to account for dietary restrictions and maximize savings.
The Inflation Cookbook was developed in partnership with Dentsu Creative Canada.
To try out the Inflation Cookbook, Canadians can visit www.inflationcookbook.com.
For all last-minute grocery needs, Skip Express Lane can be accessed via the SkipTheDishes mobile app or skipthedishes.com/skip-express-lane.